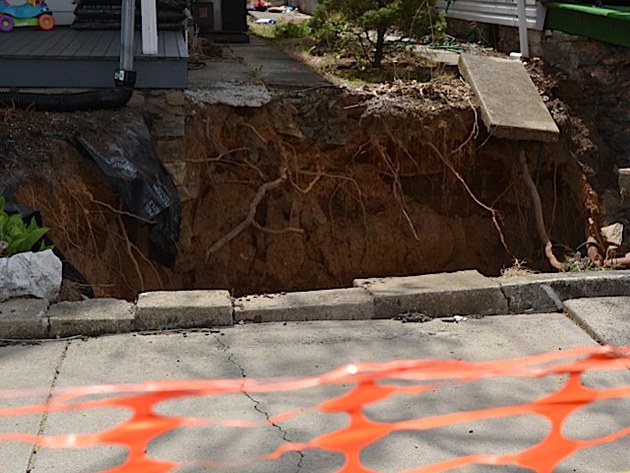 In October, nine families in Palmyra were forced to evacuate their homes because of sinkholes on the 300 block of East Cherry Street. In February, another sinkhole caused a building collapse on the property of Philadelphia Mixing Solutions, on the 1200 block of East Main Street, Palmyra.
Of course, sinkholes are a pretty common occurrence in Palmyra, where one restaurant adopted the name The Sinkhole Saloon. For that matter, sinkholes abound in central Pennsylvania. Limestone deposits that give us rich soil for farming also make the earth vulnerable to cave-ins, particularly after heavy rains.
Sinkholes can be man-made, too, causes including leaking water pipes, heavy loads and vibrations. From the U.S. Geological Survey: "Sinkholes are common where the rock below the land surface is limestone, carbonate rock, salt beds, or rocks that can naturally be dissolved by ground water circulating through them. As the rock dissolves, spaces and caverns develop underground.
"Sinkholes are dramatic because the land usually stays intact for a while until the underground spaces just get too big. If there is not enough support for the land above the spaces then a sudden collapse of the land surface can occur."
As unsettling as that sounds, it's even worse if a sinkhole causes damage to a home or other structure on your property. That's because a typical homeowners insurance policy doesn't cover sinkholes. Sinkhole coverage can be added to your policy, for a separate fee, as a "special endorsement."
If you are not certain whether you have sinkhole coverage, you should look at the declarations page on your homeowners' policy or contact your insurance agent.
Meanwhile, if you have a sinkhole on your property, the Pennsylvania Department of Environmental Protection offers these tips for dealing with it:
• Mark the location for safety and restrict access
• If the hole is large and a safety risk to the public, call the police or emergency responders
• Do not get too close: the edges of the hole may not be supported and could collapse
• Prevent unauthorized or inexperienced personnel to investigate the hole
• Do not fill the hole with garbage or debris