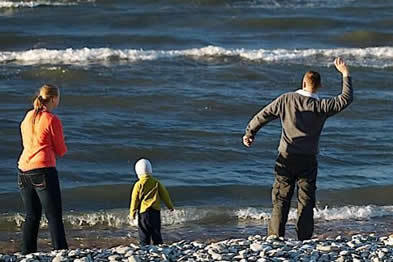 Jackie Blanchard's husband died at a young age, his life insurance sufficient only to pay for his funeral. When she died from lung cancer at age 38, Blanchard left her family in much better shape financially.
Because she bought the best life insurance she could afford, Blanchard was able to take an early payout to purchase a home and a car for her two young daughters and her parents. She also prepaid her funeral expenses and put money toward her daughters' college educations.
Blanchard's story truly is exceptional: A majority of families either have no life insurance or not enough.
September is National Life Insurance Awareness Month. In 1994, seven leading life insurance producer organizations created the nonprofit Life Happens, which has prepared a free downloadable life insurance guide that will give you a solid foundation for understanding what life insurance does.
Pondering one's mortality is not something that most of us relish, but it's a discussion worth having if people depend on you financially. When you die, how can you ensure the financial security of your loved ones? The need could be 10 to 15 times your gross annual income.
The guide includes a life insurance needs worksheet, or you can use Life Happens' online calculator.
Planning for life stages, events
Life insurance proceeds can fund many expenses: immediate (funeral costs, uncovered medical expenses, mortgage, for instance), ongoing (food, housing, utilities), and future (college, retirement).
Life insurance can be an important component of financial planning for various life stages or life events, as described in the Life Happens guide:
Married or getting married: If you died suddenly, would your spouse have enough money?
Parent or about to become one: "From diapers to diplomas, would there be enough income to pay for daycare, a college education and everything in between?"
Homeowner: "Life insurance can be used to pay down or retire the mortgage, sparing your family from moving to a less expensive place to live."
Changing jobs: The occasion of a job promotion is a good time to reevaluate your life insurance to "ensure that your family would be able to maintain its new and improved lifestyle if something were to happen to you."
Retired or planning for retirement: If you died today, your spouse could outlive you by 10 to 30 years.
Single: Perhaps you provide financial support to aging parents or siblings or have significant debt that you wouldn't want to pass on to family members.
The guide will help you understand the types of life insurance, namely the differences between term insurance (protection for a specific period of time) and permanent insurance (lifelong protection).
If you still have questions about life insurance or want to request a free life insurance quote, please call Advanced Insurance Solutions at 717-533-0252.