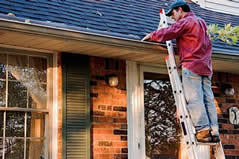 Spring forward, fall back. It's great advice for remembering seasonal time changes. But it's not so great when it comes to fall home maintenance.
Fall is a time for springing into action and getting ready for the cold and potentially inclement weather ahead.
Here are 15 tips for making your home safer and more energy efficient – and they just might save you a lot of money in the long run:
1. From the ground, check your roof for cracked or missing shingles. Leaks can damage the wood sheathing and rafters below the shingles, leading to costly repairs. For safety and expertise, consider hiring a roofing professional.
2. Clean gutters and downspouts, removing leaves and other debris that can cause clogs. Water that freezes in gutters can force snow and ice into roof shingles, causing damage and leaks.
3. Caulk exterior joints around windows and doors to keep you house weather tight and lower your heating bill.
4. Check sidewalks and driveways for significant cracks to keep out water that could freeze and make the cracks even bigger.
5. Have your furnace cleaned and clean or replace furnace filters. Dirty filters reduce heat and airflow.
6. Check your chimney for hazards. Creosote is a byproduct of burning wood. It can accumulate in flues and cause a devastating chimney fire or carbon monoxide poisoning.
7. Every home should have at least one fire extinguisher rated for all fire types (look for an A-B-C rating). Fire extinguishers that are more than six years old should be replaced.
8. Change batteries in smoke detectors. You should have smoke detectors on every floor, including the basement.
9. Change ceiling fans to a clockwise direction. This will create an upward draft to redistribute warm air from the ceiling.
10. Rake leaves, over-seed and spread a high-phosphorous (12-25-12) mix to encourage root growth and a greener turf in the spring.
11. Use or remove fuel from gas-powered lawn mowers. Otherwise, gas can go stale and form harmful gummy deposits when the mower is in storage.
12. Check handrails outside, making sure that they can support someone slipping on snow or ice.
13. Restock salt or ice melt and make sure that your shovels are in good shape for the coming snow.
14. Disconnect garden hoses as they can freeze and cause damage to the spigot and pipe.
15. Your car is an extension of your home. Make sure you have an ice scraper and snow brush in your car; toss an extra blanket in the trunk, too.
As you can see, there's plenty of work to be done. The good news is that when Daylight Saving Time ends, we turn clocks back.
That means an extra hour of sleep for you!
Sources: bhg.com, BobVila.com, kiplinger.com, weather.com