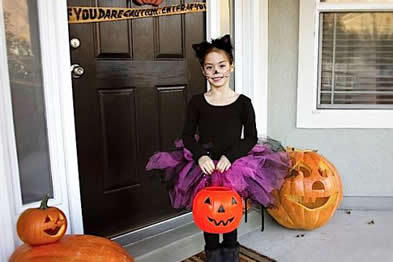 Here's a scary statistic: On average, according to SafeKids.org, children are more than twice as likely to be hit by a car and killed on Halloween than on any other day of the year.
Trick-or-treating is a lot of fun. After all, what's not to like about costumes and candy? But there's no masking the fact that darkness, the proximity of pedestrians and automobiles, and general excitement can be a dangerous combination.
Safety is essential, so consider these tips to ensure a truly Happy Halloween:
Only go to homes with a porch light on and never enter a home or car for a treat.
Fasten reflective tape to costumes and bags to help drivers see you.
Use sidewalks whenever possible or stay on the far edge of the road facing traffic.
A parent or responsible adult always should accompany young children on their neighborhood rounds.
Look both ways before crossing the street.
Use crosswalks whenever possible. Never cross between parked cars or out of driveways.
Hold a flashlight to help you see and others see you.
Wear properly fitting masks, costumes and shoes to avoid blocked vision, trips and falls.
Wear flame-resistant costumes; never walk near lit candles.
If your older children are going alone, plan and review the route ahead of time and set a return time.
Remember that it's up to adults to look out for the safety of children. If you're driving where children are trick-or-treating, be sure to go slowly and look out for those precious ghosts and goblins.
Sources: Centers for Disease Control and Prevention and American Academy of Pediatrics.