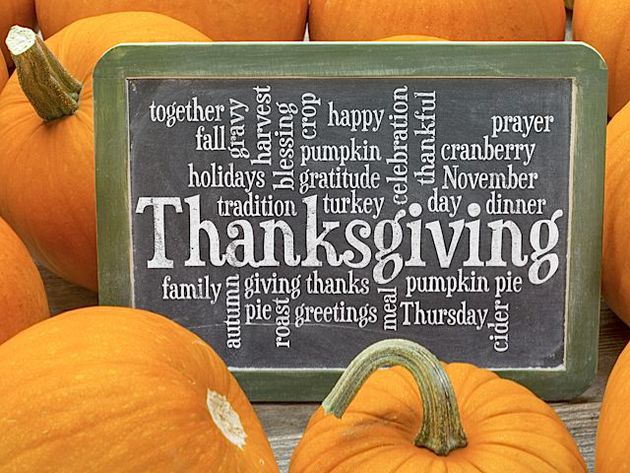 We savor the turkey and gravy, mashed potatoes and stuffing. We feast on the Macy's parade and football, too. But what Thanksgiving means most of all to us is the blessing of family and friends with whom to share it.
Here are some other takes on thankfulness and gratitude that we're serving instead of cranberry sauce:
"Gratitude is not only the greatest of virtues, but the parent of all the others."
--Marcus Tullius Cicero

"Whenever you feel like criticizing anyone … just remember that all the people in this world haven't had the advantages you've had."
--F. Scott Fitzgerald, "The Great Gatsby"
"Be thankful we're not getting all the government we're paying for."
--Will Rogers
"As we express our gratitude, we must never forget that the highest appreciation is not to utter words, but to live by them."
--John F. Kennedy
"I am thankful for laughter, except when milk comes out of my nose."
--Woody Allen
"For each new morning with its light,
For rest and shelter of the night,
For health and food, for love and friends,
For everything thy goodness sends."
--Ralph Waldo Emerson
"Gratitude is a quality similar to electricity: it must be produced and discharged and used up in order to exist at all."
--William Faulkner
"Let us be grateful to the people who make us happy; they are the charming gardeners who make our souls blossom."
--Marcel Proust
"Piglet noticed that even though he had a Very Small Heart, it could hold a rather large amount of Gratitude."
--A.A. Milne, "Winnie-the-Pooh"
"You heard what Linus was saying out there. Those early Pilgrims were thankful for what had happened to them, and we should be thankful, too. We should just be thankful for being together. I think that's what they mean by 'Thanksgiving,' Charlie Brown."
--Marcie, "A Charlie Brown Thanksgiving"
What are you thankful for?