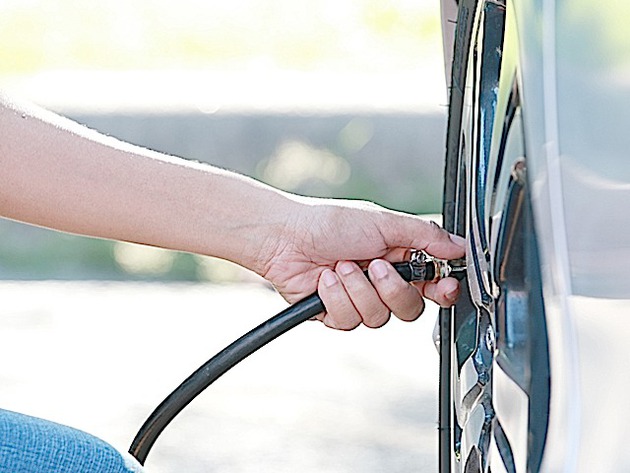 The road to Super Bowl XLIX was a rocky one for the New England Patriots, accused of having used illegally under-inflated footballs in the American Football Conference championship.
NFL fans and non-fans alike learned more than they ever thought possible about pounds per square inch (PSI) as it relates to footballs. Of course, even as hyped as it is, the Super Bowl truly is just a game.
PSI can be a life and death matter, however, when it involves car tires.
"Next to the brakes, the tires are the most important safety devices on your car," according to CarTalk.com. "Incorrect tire pressure will compromise cornering, braking and stability. And in the worst-case scenario, improper tire pressure can lead to tire failure — and a serious accident. Incorrect tire pressure also will affect your comfort, fuel economy and tire life."
All tires come with recommended inflation pressures, specified in PSI or kilopascals (kPa).
Firestone Complete Auto Center notes that tires lose pressure daily: one to two pounds per month in cool weather, even more in warm months. This is why it is recommended that you check tire air pressure (don't forget the spare) every other time you fill up your gas tank.
Think of the story "Goldilocks and the Three Bears": tire pressure shouldn't be too little or too much, but rather just right.
Operating a vehicle with just one tire under-inflated by 8 PSI (56 kPa) can reduce tire life by 9,000 miles and increase fuel consumption by 4 percent, according to tire maker Cooper Tire & Rubber Co.
Under-inflation causes excessive heat build-up and internal structural damage that can lead to tire failure, including tread/belt separation.
Over-inflation are more likely to be cut, punctured or damaged by sudden impact from hitting an obstacle, such as a pothole.
CarTalk.com offers another description of the differences between under- and over-inflated tires. With the former, less of the tire touches the ground, so your car bounces around on the road. With the latter, too much of the tire touches the ground and can become overheated.
Many people check the pressure listed on the tires themselves, but CarTalk.com says this is the wrong place to look. The number on the tire is the "maximum allowable" air pressure — not the recommended pressure for that tire when used on your vehicle. Typically, the recommended pressure is less than the maximum allowable pressure.
The first place to look for your car's proper tire pressure is in the car's owner's manual. It also could be listed on the tire placard attached to the vehicle door edge, doorpost, glove box door or fuel door.
In a future blog post, we'll offer tips on checking tire pressure.