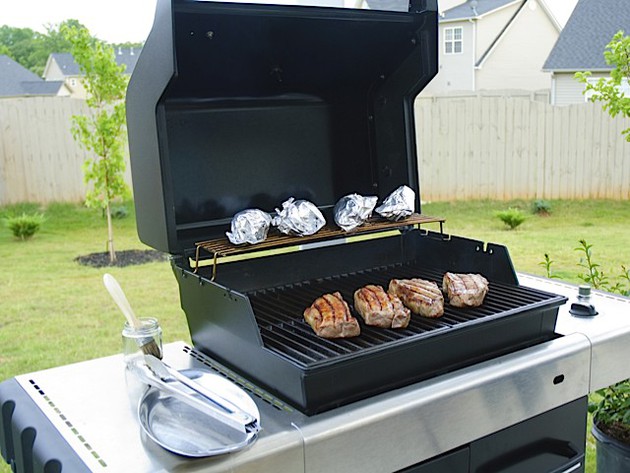 Having a certified propane tank is an important part of ensuring the safe operation of your gas grill. Tanks require recertification when they reach 12 years of age.
Speaking of the number 12, here are a dozen gas grill tips courtesy of the Hearth, Patio and Barbecue Association:
1. Don't overfill a tank. By law, a 20-pound tank (also known as a cyclinder) should be filled only to 80 percent of capacity to allow room for the liquid inside it to expand.
2. Keep the tank outside in a well-ventilated space. Never store it indoors.
3. If storing the grill indoors, the cylinder must be disconnected, removed and stored outdoors.
4. Always store the cylinder upright and in areas that will not exceed 120 degrees Fahrenheit.
5. Never attach or disconnect a cylinder when the grill is in operation or is hot.
6. Never use a tank if it shows signs of dents, gouges, bulges, fire damage, corrosion, leakage, excessive rust or other forms of visual external damage. Under these conditions, the tank could be hazardous and should be checked by a liquid propane supplier.
7. Clean and perform general maintenance on the grill twice per year.
8. Visually inspect hoses for abrasion, wear and leaks before each use. A soap and water solution may be used to test for leaks, but never use a flame.
9. When lighting a gas grill, always keep the lid open to prevent a "flash off" from built-up gas.
10. Do not lean over the grill when igniting the burners or cooking.
11. If a burner does not ignite, turn off the gas. Keep the lid open and wait five minutes before trying to light it again.
12. If the burners go out during operation, turn the gas valves off, open the lid and wait five minutes before attempting to relight.
Grilling is one of the joys of summer – and really any time of year. But no matter how routine it becomes, it's important not to take safety for granted.