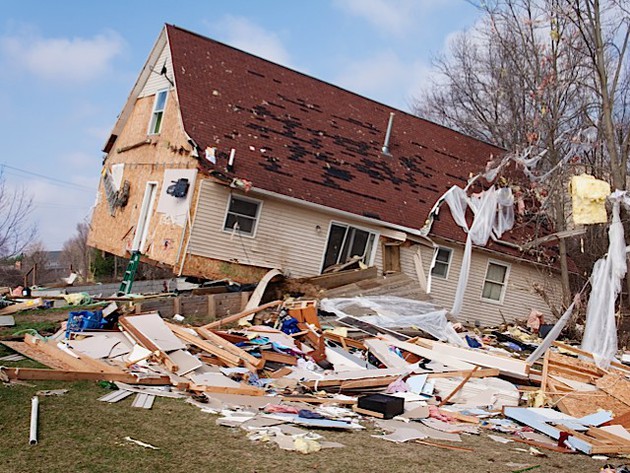 If you live in Hershey or Hummelstown, it's a safe bet that your family headed to the basement or an interior room on the evening of April 20, 2015.
Emphasis should be placed on "safe," as the National Weather Service had issued a tornado warning for northeast Cumberland County and southern Dauphin County.
Tornadoes historically have been recorded in Pennsylvania in every month of the year, according to Fox 43 meteorologist Jeff Jumper, but they peak in May, June and July. Since 1888, there have been 139 in May, 175 in June and 171 in July.
The United States witnesses more tornadoes than any other country (Canada is second), many of them focused in an area known as "Tornado Alley" and loosely encompassing northern Texas, Oklahoma, Kansas and Nebraska.
However, the geographic reach of tornadoes is much greater than that.
"In terms of tornado frequency, really anywhere from the front range of the Rockies to the East Coast has the chance for quite a few tornadoes," said severe weather expert Dr. Greg Forbes of The Weather Channel.
"Especially in recent years we've become aware that really the main Tornado Alley in terms of danger and fatalities and injuries has come from Oklahoma and eastern parts of Texas over across the Gulf Coast states: Mississippi, Louisiana, Alabama really have a lot of tornadoes and a lot of killer tornadoes."
While the threat may be less in central Pennsylvania, tornado watches and tornado warnings never should be taken lightly. Here are some facts and definitions courtesy of ready.gov:
About Tornadoes
• May strike with little or no warning.
• They may appear nearly transparent until dust and debris are picked up or a cloud forms in the funnel.
• The average tornado moves southwest to northeast, but tornadoes have been known to move in any direction.
• The average forward speed of a tornado is 30 mph, but it may vary from stationary to 70 mph.
• Tornadoes can accompany tropical storms and hurricanes as they move onto land.
• Waterspouts are tornadoes that form over water.
• Tornadoes are most frequently reported east of the Rocky Mountains during spring and summer months.
• Tornadoes are most likely to occur between 3 p.m. and 9 p.m. but can occur at any time.
Tornado Watch vs. Warning
Tornado Watch: Tornadoes are possible. Remain alert for approaching storms. Watch the sky and stay tuned to National Oceanic and Atmospheric Administration (NOAA) Weather Radio, commercial radio or television for information.
Tornado Warning: A tornado has been sighted or indicated by weather radar. Take shelter immediately.
Seeking Shelter
NOAA's Storm Prediction Center offers tips depending on your physical location in the face of a tornado. Common to each of these is the fact that flying debris presents the greatest danger in a tornado and windows should be avoided.
House with basement: Get in the basement and under a heavy table or work bench or cover yourself with a mattress or sleeping bag. A helmet can provide additional protection.
House with no basement, a dorm or an apartment: Go to the lowest floor and in a small center rom (bathroom or closet), under a stairwell, or in an interior hallway. Crouch face down and cover your head with your hands.
Office building, hospital, nursing home or skyscraper: Go to the lowest floor and an enclosed, windowless area in the center of the building. Crouch down and cover your head. Stay off elevators as you could become trapped if the power goes out.
Mobile home: Get out! Go to an underground shelter or nearby permanent structure. (Tornado deaths are disproportionately higher in mobile and manufactured homes compared with traditional homes, according to this USA Today article.)
School: Go to an interior hall or windowless room. Stay away from large open rooms such as gyms and auditoriums.
Car or truck: There is no safe option in a car, only slightly less-dangerous ones. If the tornado is visible and far away, you may be able to drive out of its path by moving at right angles to the twister. If you can't get to a sturdy building, park the car out of traffic as quickly as possible. With your seat belt on, put your head down below the windows and cover your head with your hands and with a blanket, coat or other cushion if possible.
Outdoors: If you can't get to a sturdy building, lie flat and face down on low ground, protecting the back of your head with your arms. Get as far away as you can from trees and cars.
The right coverage
Given the risks associated with tornadoes, it is important that you have the right insurance cover to provide peace of mind and, if necessary, to repair or replace your home and/or belongings.