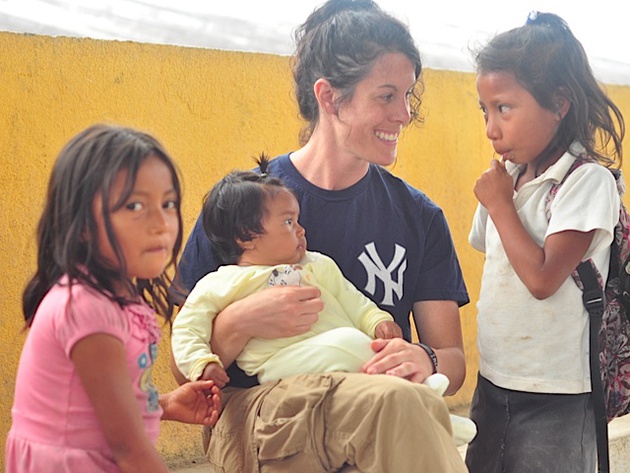 Jaci Wildner has been volunteering since she was a high school student in Lewisberry, York County, with organizations such as Big Brothers Big Sisters and Habit for Humanity.
She also has traveled extensively, both as a former flight attendant for US Airways (for which she also volunteered) and as a tourist.
But her tendencies toward giving and going had never combined in the way they did for 10 days in June.
"I just felt a greater desire to help people in other countries and just kind of see something different," Jaci said.
That explains why Jaci, personal lines producer and customer service representative for Advanced Insurance Solutions, used her vacation time to join a church mission trip to the jungle of Ecuador, in northwestern South America.
Jaci was among 15 men and women from Daybreak, a nondenominational church to which she has belonged since her teens. Although they belong to the same church, most of her traveling companions were from its Enola location while she attends in Mechanicsburg.
Her initial nervousness about not knowing many people proved unfounded, she said, and the group soon formed a strong bond. They arrived Friday in Quito, the capital, with its modern airport.
Getting from there to the jungle required a long ride on a motor coach that had air-conditioning but no bathroom. Heavy rains caused mudslides that closed roads. What normally is a seven-hour bus ride turned into a 15-hour trip along winding, sometimes unpaved roads that prompted many of the travelers to prayer.
The high elevation made breathing more difficult. But there also were breathtaking views of beautiful green vegetation at ever turn.
"Every time you looked out there was another waterfall," she said
A long ride on Saturday culminated with a stop for dinner and a night of rest in a modest motel. Under way in darkness Sunday morning, they didn't arrive at their final destination until 9 p.m.
'Like we gave them iPads'
Their host was Inca Link, a nonprofit that operates a mission school in the village of Ninawachi, where the Daybreak group spent most of its time. The visitors stayed in a wooden building, beds grouped by twos with mosquito netting around them. The showers didn't work, so they bathed in a cold river.
Their work began Monday morning. They split into two groups: Jaci's painted a church, the other one cleared land for a new dorm.
Given Ecuador's equatorial location, Jaci anticipated hot weather and packed only one hoodie that she didn't expect to need. But she did need it.
"It was cold and rainy the whole time," she said.
Each afternoon, the group would go to villages and spend three hours with 20 to 50 native children who gathered at pavilions. The visitors gave jump ropes, coloring books and other toys to the grateful children.
"We gave them bubbles and it was like we gave them iPads," she said. "They were so happy with bubbles. And sidewalk chalk, that was another big thing."
Parents were scarce, presumably working. The older children would carry babies that were strapped to them, possibly younger siblings or another relation. Jaci and her companions would hold the babies instead, allowing the older children time to play.
'Giving love'
Also each day, members of Daybreak would join their Spanish-speaking missionary hosts on visits to the native adults' homes, huts really with wooden floors and typically only a couple of small rooms.
"I think I learned a lot about having faith and just trusting in God," Jaci said. "I was kind of the odd person out because I didn't know anybody in the (Daybreak) group. And I was pretty nervous about that. And I was nervous because I didn't know any Spanish and I wanted to interact well.
"But just giving love to people, that just brings you together as far as the people in Ecuador and the kids. We didn't understand each other, but we did fine."
Her other takeaway was to appreciate better what she has.
"I will never again take hot showers for granted," she said with a laugh.
But she's fully prepared to go without them again. Asked if she would make another mission trip, she answered unequivocally.
"Oh, totally," she said. "I'm definitely doing it again."