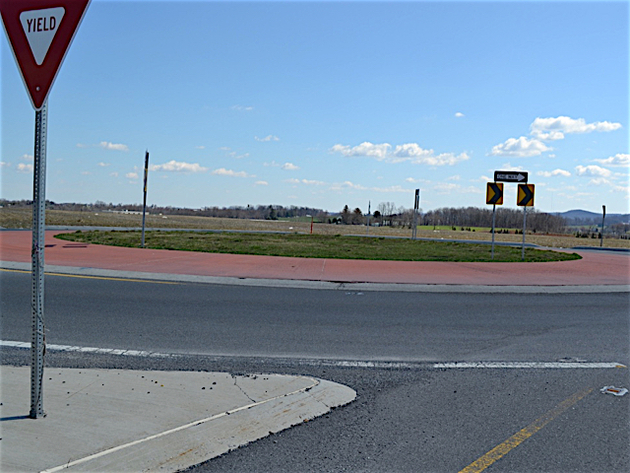 If you're a fan of the progressive rock band Yes, then you're probably familiar with the song "Roundabout."
The lyrics are obscure, to wit: "I'll be the round about/The words will make you out 'n' out"
Traffic roundabouts tend to cause head scratching, too. Consider the trouble in 2011 when two roundabouts debuted on Linglestown Road in Dauphin County.
"I don't know who has the right of way," a Lower Paxton Township police officer told the Patriot-News. "I'm as confused as anyone. I should get it, but I don't."
Similar confusion could be destined for Route 322 in Derry Township, where two roundabouts are under construction near Milton Hershey School.
In case roundabouts make your head spin in circles, we've gathered information on their purpose and how drivers are supposed to negotiate their ways through them.
The Pennsylvania Department of Transportation developed this flyer about single-lane roundabouts, which are said to be safer and reduce delays as opposed to other forms of "at-grade" intersections.
Compared with an intersection that has a traffic signal, studies show, roundabouts experience:
90 percent fewer fatal crashes;
75 percent fewer injury-causing crashes;
30-40 percent fewer pedestrian crashes;
10 percent fewer bicycle crashes.
"These reductions are due to the elimination of most head-on, left turning across oncoming traffic, and right-angle crashes," according to PennDOT.
Because of the continuously flowing nature of roundabouts, they can handle more volume than signalized intersections: approximately 30 percent more during peak traffic flow.
The rules for getting around in a roundabout are pretty simple.
Approaching and Entering:
When approaching the roundabout, slow down and be prepared to yield to pedestrians in the crosswalk.
Traffic moves in a counterclockwise direction. Approach the yield line, look to the left and check for approaching traffic within the roundabout. Circulating traffic has the right of way.
Enter the roundabout when there is a safe gap in traffic. If necessary, stop at the yield line until there is a safe gap.
Circulating and Exiting:
Once you have entered the roundabout, proceed counterclockwise to your exit point. You now have the right of way.
As you approach your exit, use your right turn signal.
Watch for pedestrians in the crosswalk and be prepared to yield.
Exit the roundabout.
Now, as for those Yes lyrics …