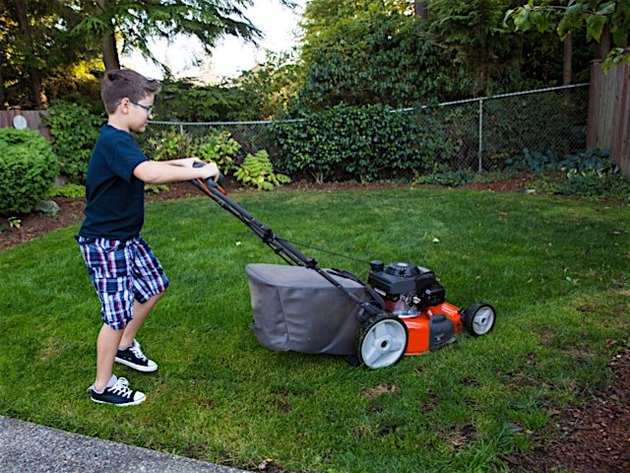 Just like morning dew and fireflies at night, the whirring of lawn mower blades is a staple of summer (not to mention much of spring and fall).
We love our manicured lawns and take great pride in maintaining them.
But it's important to consider just how dangerous lawn mowers can be if not operated properly.
Lawn mower blades whirl at 3,000 revolutions per minute, according to the American College of Foot and Ankle Surgeons, and they produce three times the kinetic energy of a .357 handgun.
The U.S. Consumer Product Safety Commission, which developed the federal safety standard for power mowers, found that from 2012 through 2014, an average of 36,000 people were treated in hospital emergency rooms for walk-behind power mower injuries.
The Amputee Coalition notes that depending on where you live in the United States, you might mow your lawn 30 or more times in a year. Citing U.S. Consumer Product Safety Commission statistics, the coalition noted that each year 800 children are run over by riding mowers or small tractors, with more than 600 of those incidents resulting in amputation. Seventy-five people are killed, with one in five deaths involving a child.
A beautiful lawn can set the stage for fun and games, but the act of cutting a lawn is serious business from which young children should be shielded. We compiled a list of safety tips that underscores the fact that most lawn mower injuries can be avoided.
Wear non-slip shoes instead of tennis shoes, sandals, flip flops or bare feet. Steel-toed safety footwear offers the most protection against a blade.
Don't remove any safety features on the mower.
Wear ear plugs to prevent hearing loss caused by exposure to loud mower engines.
Fill the gas tank before you start the engine, never when the engine is running or hot.
Always start the mower outside.
Be sure the grass is free of tree limbs, rocks and other debris that could become a dangerous projectile or damage your mower. Tall grass can hide objects, holes, bumps.
Never unclog or otherwise work on your mower while the engine is on.
Disconnect the spark plug wire to ensure that the engine can't start while you are working on your mower.
Don't drink alcoholic beverages before or while operating a lawn mower.
Consider the terrain: mow across slopes to avoid pulling the mower over your feet if you slip. For a riding mower, mow up and down slopes (not across) to avoid tipping over.
Don't pull backward on a mower or mow in reverse unless it is absolutely necessary.
Don't cut grass when it is wet as it can be slippery, clog a mower's discharge chute, or jam the blade.
Young children should be kept away from an operating mower. Of course, it's a rite of passage for children eventually to start cutting the family lawn: Experts say they should be at least 12 to operate a push mower, 16 for riding a lawn mower.
Sources: Insurance Information Institute, OrthoInfo, HealthyChildren.org, American Academy of Pediatrics, Amputee Coalition, American College of Food and Ankle Surgeons