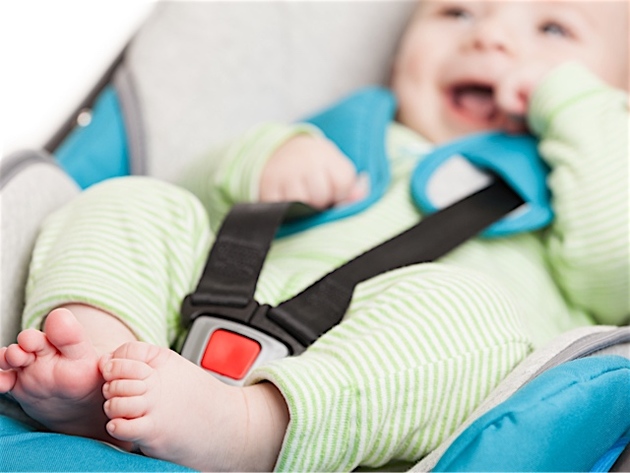 We haul everything in our cars, from groceries and dry-cleaning to sports equipment and home-improvement products.
But there's no more precious cargo than the people we move, especially our children. And yet as a nation we're not keeping them as safe as we should.
In 2013, according to the U.S. Centers for Disease Control and Prevention (CDC), 638 children ages 12 and younger died (and 127,250 were injured) as occupants in motor vehicle crashes. Of the children who died, 38 percent of them were not buckled up.
Even when child restraint systems are used, CDC estimated 46 percent of car and booster seats are misused in a way that could reduce their effectiveness.
Used correctly, child safety seats can reduce the risk of death by 71 percent for infants and 54 percent for toddlers ages 1 to 4. Booster seats reduce the risk of serious injury by 45 percent for children 4 to 8.
From 1975 to 2013, according to CDC, child restraints saved more than 10,000 lives of children 4 and younger.
The safest place for any children to ride is properly buckled in the back seat; airbags can kill small children riding in the front seat.
TYPES AND TIPS
There are four primary types of child safety seats: rear-facing, forward-facing, booster, seat belts. Safe Kids Worldwide offers this rule of thumb: Every time you move your child from one type of seat to the next, they lose protection, so delay the progression as long as you can.
The website JustDrivePA.org, which is operated by PennDOT, noted that under Pennsylvania's primary child passenger safety law, children below age 4 must be properly restrained in an approved child safety seat anywhere in the vehicle. From ages 4 to 8, they should be in an appropriate booster seat, and drivers or passengers ages 8 to 18 must be in a seat belt.
JustDrivePA.org offered these recommendations for child safety seats based on age:
Birth to 12 months
Children under age 1 always should ride in a rear-facing car seat.
1 to 3 years
Children should remain in rear-facing seats as long as possible – until reaching the top height or weight limit allowed by the car seat manufacturer.
4 to 7 years
Keep children in forward-facing seats with a harness until reaching the top height or weight allowed by the manufacturer.
8 to 12 years
Keep children in booster seats until they fit a seat belt properly: the lap belt must lie snugly across the upper thighs (not stomach); the shoulder belt should lie snugly across the shoulder and chest and not cross the neck or face. Children still should ride in the back because it's safer.
GET IT INSPECTED
Even if you think you've done everything properly with your child's car seat, it's a good idea to get an expert's opinion. The National Highway Traffic Safety Administration offers a list of child car seat inspection stations on its SaferCar.gov website.
Safe Kids Dauphin County, led by Penn State Hershey Children's Hospital, operates three permanent car seat inspection stations: Sutliff Volkswagen in Harrisburg; Lower Paxton Police Department; and the Life Lion hangar in Hershey.
Inspections are available by appointment only, from 1 to 5 p.m. Tuesdays and 2 to 6 p.m. Thursdays. Call 717-531-SAFE to make an appointment.