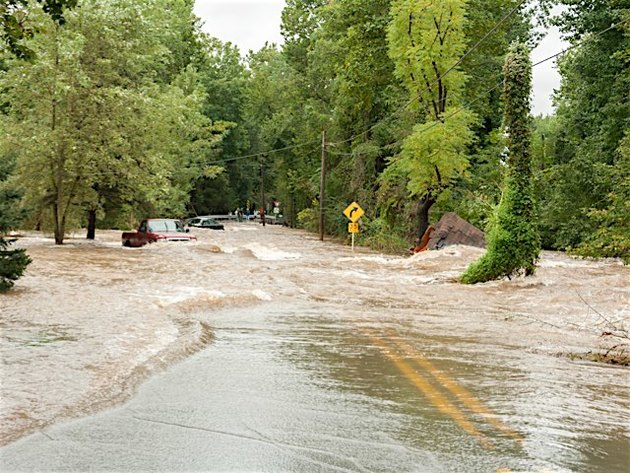 September will mark the fifth anniversary of massive flooding in central Pennsylvania caused by Tropical Storm Lee.
In Hershey, the flood water buckled pavement at the Route 322 off-ramp near Hersheypark Drive; submerged Pizza Hut; drowned a bison at ZooAmerica.
The storm, according to the National Weather Service, damaged more than 16,000 homes and businesses in Pennsylvania, including more than 1,000 that were destroyed. Damage in Dauphin County was estimated at approximately $150 million.
While Tropical Storm Lee was historic, flooding is an everyday reality. Everyone lives in a flood zone: It's just a question of whether you live in a low-, moderate- or high-risk area.
NATIONAL FLOOD INSURANCE PROGRAM
Floods are the most common natural disaster in the United States, and nearly 20 percent of flood insurance claims occur in areas that typically don't flood.
Yet most of us don't give floods much thought. In special cases such as Tropical Storm Lee, federal disaster assistance might be available. But it typically takes the form of a low-interest loan to help cover flood damage. It won't compensate you for your losses.
Most homeowners insurance policies don't provide flood coverage. In fact, you might read in bold letters: This policy does not cover flood loss.
The good news is that homeowners – and renters, whose personal property is not covered by a landlord's insurance – may purchase a separate flood insurance policy.
The National Flood Insurance Program enables property owners in participating communities to purchase flood insurance as protection against flood losses. It requires local and state governments to enforce floodplain management regulations intended to reduce future flood damage.
More than 20,000 communities participate in the National Flood Insurance Program, including Derry Township, Hummelstown and Palmyra.
GOLD STANDARD OF CUSTOMER CARE
At AIS, we write flood insurance policies through Selective Insurance, which in 1984 became one of the first insurance companies to join the National Flood Insurance Program as a so-called Write Your Own (WYO) carrier. WYO is a cooperative undertaking between Selective and other private insurance companies and the Federal Emergency Management Agency (FEMA).
WYO carriers such as Selective are the gold standard when it comes to customer care: They each have an entire department dedicated to flood clients, including claims. Today, Selective is the sixth-largest Write Your Own carrier, providing "flood building and contents" coverage for homeowners and business properties across the United States.
Selective notes that just a few inches of water can cause tens of thousands of dollars in property damage. Based on Selective's online "Cost of Flooding Tool," a six-inch flood could cause:
• $20,150 in total losses for a 1,000-square-foot home;
• $39,150 in total losses for a 2,000-square-foot home.
You'll find various estimates as to what flood insurance will cost you. However, for an accurate quote based on your unique circumstances, you should contact your insurance provider and discuss your coverage needs and preferred deductible.
If you would like to learn more about flood insurance in central Pennsylvania, please contact Advanced Insurance Solutions at 717-232-0252. We'll be happy to provide you with a free flood insurance quote.