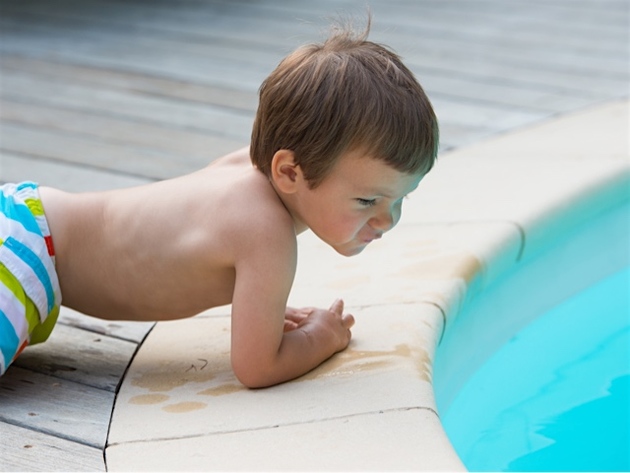 Nothing says refreshing like a dip in a swimming pool on a hot summer day.
But nothing speaks of danger more than young children near water.
Drowning is the leading cause of injury-related death among children ages 1 to 4, according to SafeKids.org. It's the third-leading cause among children 19 and younger.
Across the United States, each year some 300 children under 5 years old drown in pools, usually one owned by their family, noted the U.S. Consumer Product Safety Commission.
A child can drown in the time it takes to answer a phone.
TAKE THE PLEDGE
In a comprehensive study of drowning and submersion incidents involving children under 5 years of age (in Arizona, California and Florida), the commission found that 77 percent of the victims had been missing from sight for five minutes or fewer.
To raise awareness of the drowning risk, the commission has developed the "Pool Safely Pledge," which it says can be completed in one minute "to make sure your family is safer around water this year."
For adults, the pledge amounts to entering your name and ZIP Code and agreeing (by clicking) to these five points:
Designate a water watcher every single time children in my care are in or near the water.
Make sure my kids know how to swim.
As a parent or guardian, learn CPR.
Always remove portable pool ladders when not in use.
Ensure all permanent pools have a proper fence and gate and safer drain covers.
OTHER RULES TO FOLLOW
In Pennsylvania, swimming pools deeper than 24 inches are regulated by the Uniform Construction Code. For residential pools, the standard is the 2009 International Residential Code, which requires barriers of at least four feet in height.
Any opening may not allow anything larger than a sphere four inches in diameter to pass through. Pedestrian access gates have to open away from the pool and have self-closing and self-latching devices.
Meanwhile, Erie Insurance offers additional pool safety rules, including:
Don't allow anyone who has been drinking alcohol to swim in the pool.
Never dive into an above-ground pool. Always check the water depth before plunging into an in-ground pool.
Don't allow your children to let their friends use the pool without your permission and supervision.
Don't allow glass bottles or other potential hazards into the pool area.
Keep radios, CD players, blow dryers, and other electrical devices away from the pool.
Enjoy the summer, the sun (be sure to wear sunscreen!), and the splashes in the pool. But never take your eye off children or their safety.