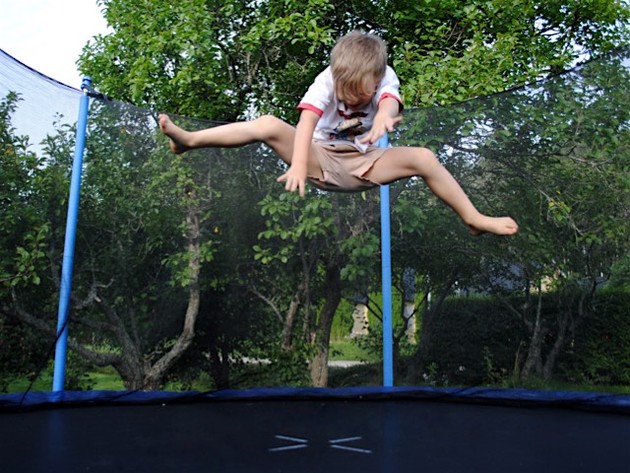 Trampolines have their ups and downs – and that's the problem.
While jumping and somersaulting has enormous appeal to children, the danger associated with landing improperly has led the American Academy of Pediatrics to advise against anyone using a home trampoline.
Whether trampoline use is supervised in a backyard (or at a growing number of indoor parks), there's a significant risk of injury.
From 2002 to 2011, according to the Cleveland Clinic, trampoline injuries contributed to more than 1 million emergency department visits.
In 2014 alone, nearly 105,000 emergency room-treated injuries were associated with trampolines, according to the U.S. Consumer Product Safety Commission, which also cited 22 deaths between 2000 and 2009.
Injuries and deaths can be caused by:
• Colliding with another person on the trampoline
• Landing improperly while jumping or doing stunts on the trampoline
• Falling or jumping off of the trampoline
• Falling on the trampoline springs or frame
5 AND YOUNGER AT GREATEST RISK
Most injuries (75 percent) occur when multiple people are jumping on the trampoline mat. Children 5 and younger usually are at greatest risk for a significant injury: nearly half of the injuries in this age group resulted in fractures or dislocations.
Other common injuries in all age groups include sprains, strains and contusions. Falls account for 27 to 39 percent of all injuries.
Besides the physical risks associated with trampolines, there's the potential for personal liability as the owner of one.
Tracy Hartman, personal lines agent for Advanced Insurance Solutions in Hershey, Pa., noted that insurance companies approach trampolines with trepidation.
"Most have strict underwriting guidelines for offering coverage," she said "Trampolines might need to be fenced and netted, for example. Some companies will not provide home insurance coverage at all if there is a trampoline on the premises, and some will exclude the trampoline liability but cover everything else."
Hartman urges anyone who owns a trampoline or is considering purchasing one to discuss the topic with an insurance agent.
"Generally speaking, any time you add something to your home, you should contact your agent to confirm you have proper coverage," Hartman said.
HOW TO IMPROVE SAFETY
If you do have a home trampoline, the U.S. Consumer Product Safety Commission makes these points to help prevent deaths and serious injuries, especially paralysis, fractures, sprains and bruises:

• Allow only one person on the trampoline at a time.
• Do not attempt or allow somersaults, because landing on the head or neck can cause paralysis.
• Do not use the trampoline without shock-absorbing pads that completely cover its springs, hooks and frame.
• Place the trampoline away from structures, trees and other play areas.
• No child under 6 years of age should use a full-size trampoline. Do not use a ladder with the trampoline, because it provides unsupervised access by small children.
• Always supervise children who use a trampoline.
• Trampoline enclosures can help prevent injuries from falls off trampolines.
Critics of trampolines suggest safer alternatives, such as playing catch, going to a park, riding a bike or participating in a team sport.