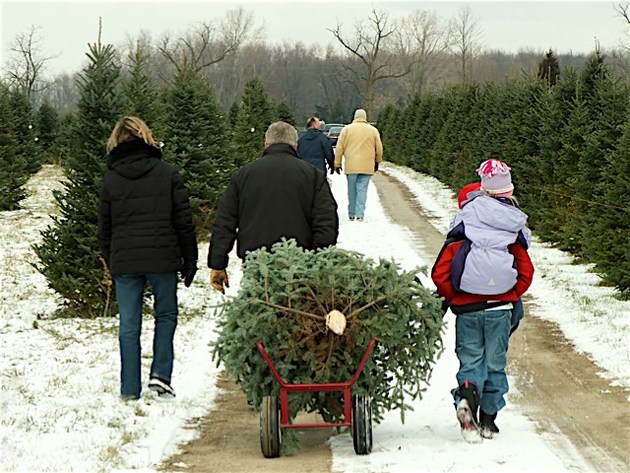 In January 2015, a massive fire in Annapolis, Md., claimed the lives of a couple and their four grandchildren, ages 6 to 8.
In the mansion's great room stood a 15-foot Fraser fir Christmas tree that had been lit 24 hours per day. It had been cut 65 days before the blaze and, ignited by a faulty electrical outlet, "provided a concentrated source of tinder that propelled the fire's ferocious spread," according to a Washington Post story.
As this tragedy reminds us, while counting down the number of days until Christmas, we also should be mindful of how many days since our trees were cut. The longer, the greater the fire hazard.
Keeping a tree watered and away from heat sources are essential to ensuring the safety of your family and home during the holiday season.
Between 2007 and 2011, U.S. fire departments annually responded to an average of 230 home fires that started with Christmas trees, the Washington Post noted, citing the National Fire Protection Association as its source.
While Christmas tree fires are not common, they tend to be serious: 1 in 31 results in a death compared with 1 in 144 total home fires, according to the U.S. Fire Administration. Heat sources that are too close to a tree cause one-fourth of tree fires.
As this video demonstrates, fire can spread swiftly in a dry tree. A dry tree burns three to four times faster than a watered tree.
Care tips for fresh-cut trees
The National Christmas Tree Association offers these care tips for fresh-cut trees:
• Once home, place the tree in water as soon as possible. Most species can go six to eight hours after cutting the trunk and still take up water. Don't bruise the cut surface or get it dirty. If needed, trees can be temporarily stored for several days in a cool location. Place the freshly cut trunk in a bucket kept full of water.
• Displaying trees in water in a traditional reservoir type stand is the most effective way of maintaining their freshness and minimizing needle loss problems.
• To display a tree indoors, use a stand with an adequate water-holding capacity. In general, stands should provide one quart of water per inch of stem diameter. Devices are available that help maintain a constant water level in the stand.
• Use a stand that fits your tree. Avoid whittling the sides of the trunk down to fit a stand. The outer layers of wood are the most efficient in taking up water and should not be removed.
• Make a fresh cut to remove about a one-half-inch thick disk of wood from the base of the trunk before putting the tree in the stand. Make the cut perpendicular to the stem axis. Don't cut the trunk at an angle, or into a V-shape, which makes it far more difficult to hold the tree in the stand and reduces the amount of water available to the tree.
• Drilling a hole in the base of the trunk does NOT improve water uptake. Water temperature is not important and does not affect water uptake.
• Check the stand daily to make sure that the level of water does not go below the base of the tree. With many stands, there can still be water in the stand even though the base of the tree is no longer submerged in water.
• Keep trees away from major sources of heat (fireplaces, heaters, heat vents, direct sunlight). Lowering the room temperature will slow the drying process, resulting in less water consumption each day.
• Use lights that produce low heat to reduce drying of the tree. For more on the safe use of lights, view this post.
• Monitor the tree for freshness. After Christmas or if the tree is very dry, remove it from the house.
In Derry Township, Christmas tree collection is scheduled by neighborhood (see page 14 of the township newsletter). For 2017, collection is scheduled for Jan. 2-20, or you can drop off your tree at the township's recycling center, 650 Clearwater Road (winter hours are 4 to 8 p.m. Monday, 8 a.m. to 3 p.m. Friday and Saturday).