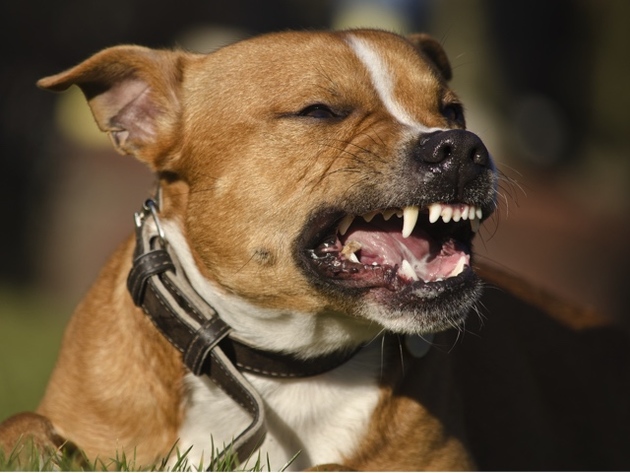 Welcoming a dog into your home comes with a long checklist of considerations, from leashes and food dishes to potty training and socializing.
One other item that bears significant thought is insurance liability should your dog bite or attack someone.
Dog bites and other dog-related injuries accounted for more than one-third of all homeowners insurance liability claims paid out in 2015, according to the Insurance Information Institute.
While the number of claims decreased 7.2 percent in 2015, the average cost per claim jumped 16 percent from $32,072 in 2014 to $37,214. Since 2003, the cost per claim increased 94 percent, "due to increased medical costs as well as the size of settlements, judgments and jury awards given to plaintiffs."
"The trend in higher costs per claim is attributable not simply to dog bites but also to dogs knocking down children, cyclists, the elderly, etc., all of which can result in fractures and other blunt force trauma injuries that impact the potential severity of the losses. Another factor might be the surge in U.S. Post Office worker attacks, many of which take place at the customer's door."
Pennsylvania ranked fourth among states for the most dog bite claims, 794. This compared with fifth place on 861 claims in 2014.
NOTIFY YOUR INSURANCE COMPANY
Tracy Hartman, operations manager for Advanced Insurance Solutions Inc., said it is standard practice that your insurance company will ask whether you have a dog at the time you purchase a homeowners policy. If you don't then but acquire a dog later, she said, you should notify your insurance company to ensure that you have proper coverage.
"Some companies exclude animal liability and could deny a claim if you later own a dog and have a bite," she said. "However, generally speaking, if there is no exclusion, the claim likely would be covered but just as likely would result in a premium increase."
To limit their exposure, insurers are taking other steps: require dog owners to sign liability waivers for dog bites; charge more for owners of breeds such as pit bulls and Rottweilers; not offer insurance to dog owners at all.
"Some will cover a pet if the owner takes the dog to classes aimed at modifying its behavior or if the dog is restrained with a muzzle, chain or cage," according to the Insurance Information Institute.
ONE IN FIVE BITES INFECTED
Some 54.4 million U.S. households own 77.8 million dogs, according to the American Pet Products Association, as cited in the Insurance Information Institute report.
That population produces approximately 4.5 million dog bites each year in the United States, one in five of which becomes infected, the U.S. Centers for Disease Control and Prevention noted.
Children (particularly ages 5 to 9) and men are most likely to be bitten by a dog. More than half of dog bites take place at home with dogs that are familiar to their victims. Adults who have two or more dogs are five times more likely to be bitten than those living without dogs at home.
"Dogs can be our closest companions," according to the CDC. "They often live in our homes, have been proven to decrease stress, increase our exercise levels, and are frequent playmates for children. But sometimes man's best friend will bite. In addition to causing pain, injury, or nerve damage, dog bites can become infected, placing the bite victim at risk for illness or even death."
And dog bites can put the dog owner at great risk for liability.
The dog owner could be sued for damages above the limit on his or her homeowners policy. For this reason, Hartman of AIS said it is worth considering an "umbrella" policy, which provides another $1 million in liability coverage beyond homeowners and auto policies.