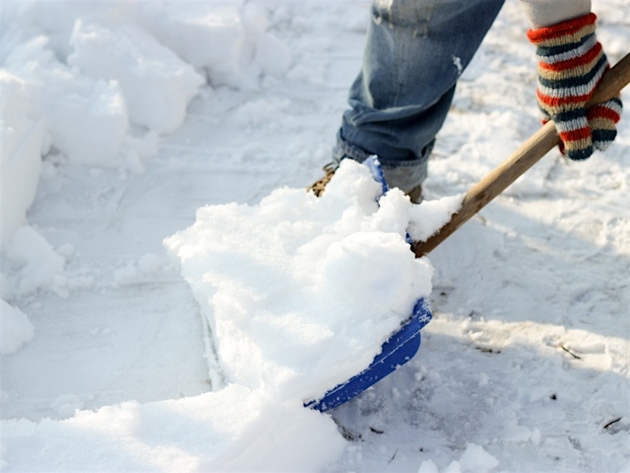 When it comes to snowfall and your driveway, how quickly you tend to shoveling is up to you. Maybe you're an early riser and get right at it. Perhaps you're a procrastinator, and you'll get around to it when the inspiration hits.
[For tips on how to shovel safely, click on this link.]
But when it comes to your sidewalks, you're on your municipality's clock. From the end of the storm, you have 12 hours in Hummelstown and 24 hours in Derry Township and Palmyra to clear your sidewalks of snow and ice.
Failing that, you could face fines: $75 to $600 plus costs in Palmyra, for instance. And each day a violation continues is considered a separate offense.
If a sidewalk isn't cleared in Derry Township, the board of supervisors can have the sidewalk cleared and collect the cost plus 10 percent from the owner, occupier or tenant, which may be in addition to a fine or penalty.
Whether you own or rent your home will determine exactly who is responsible for shoveling your sidewalks, Erie Insurance noted.
For homeowners living in a condo or co-op, your association may hire a snow removal company to handle driveways and sidewalks. For renters, responsibility should be spelled out in your rental agreement.
Strict enforcement of municipal sidewalk shoveling ordinances may be rare, but you are taking a risk if you don't adhere to them. Likewise, homeowners usually are held liable if someone is injured on an obstructed sidewalk -- whether you clear it within the municipality's allotted window or not.
"Your homeowner's insurance generally covers you if someone injured on your property files a claim," according to Erie Insurance. "Yet there are times when the claim amount exceeds basic coverage limits. This could leave you paying for damages out of pocket."
Tracy Hartman, operations manager for Advanced Insurance Solutions, said it is important for homeowners and tenants to know just what liability risks are covered under their policies. If there are gaps, additional coverage can be added as an "endorsement" on an existing policy.
Hartman also noted that many people can benefit from having additional liability coverage to protect their personal finances. An "umbrella policy," more formally known as personal catastrophe and liability coverage, provides an additional $1 million or more to all underlying policies, such as auto, home, motorcycle, recreational vehicle, ATV and boat.
For more information on umbrella policies, contact AIS for an insurance quote.