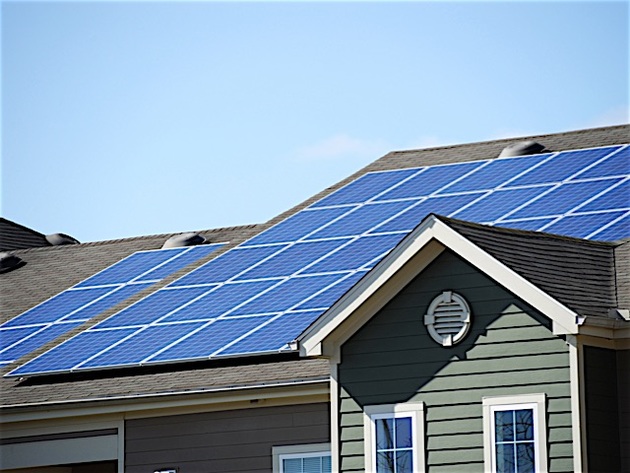 The solar power industry announced its presence with blinding authority in 2016.
For the first time in history, solar topped gas and wind as the top source of new electricity-generating capacity, which nearly doubled from 2015. The solar industry accounted for 2 percent of all new jobs in the United States.
And this growth isn't limited to sunny California: Pennsylvania ranks 18th in installed solar capacity. Perhaps you've noticed the ground-mounted solar panels recently erected next to Derry Township's municipal complex on Hersheypark Drive (see page 3).
'Solar viable'
The residential market grew 19 percent from 2015 and is expected to continue expanding as a drop in installation costs make projects more viable for homeowners.
Google's Project Sunroof, a solar calculator, suggests that 76 percent of rooftops in Dauphin County are "solar viable."
If all of those installations were realized, the reduction in carbon emissions would be akin to removing 105,000 passenger cars from the road for one year or growing 12.7 million tree seedlings for 10 years, according to Project Sunroof.
Not only can the environment benefit, but so could your pocket book. Electricity generated by solar panels on your home's roof is electricity that you don't have to purchase.
Of course, there is the upfront cost of purchasing and installing the panels.
SunPower, a publicly traded solar panel manufacturer, says that solar panels:
• Are a good financial bet, generally, if your monthly electric bill is $100 or more.
• Work best on roofs made with strong, durable materials, such as composite or asphalt shingles, concrete tile or standing seam metal.
• Can have a useful life of 40 years, suggesting that it's good to replace a roof that is nearing the end of its life expectancy. Cost savings from high-efficiency solar panels could pay for a new roof in five years.
High-efficiency solar panels convert direct and indirect sunlight into electricity, so they work even on cloudy days.
Adequate insurance coverage
The more south-facing a roof is, the more energy a solar system will produce. It's better still if that roof is flat and not obstructed by trees, chimneys, vents, antennas.
East- and west-facing roofs are good options because they also get a lot of sun. If your only available roof area is north-facing or if you don't have much unobstructed room for panels, then you may not be a good candidate.
Because solar panels represent a significant investment, it's important to have adequate insurance coverage. There could be restrictions on coverage based on whether you wish to mount the panels on a rooftop or on the ground.
Residential solar energy installations typically are covered under a standard homeowners policy, protecting your investment from damage caused by the likes of wind, hail or lightning.
While solar panels can significantly improve the value of your home, if you install them you'll want to make sure you have sufficient insurance to reflect what your home is now worth.
Bottom line: If you've taken a shine to solar, contact your insurance agent before you make any final decisions. You can reach AIS at 717-533-0252.