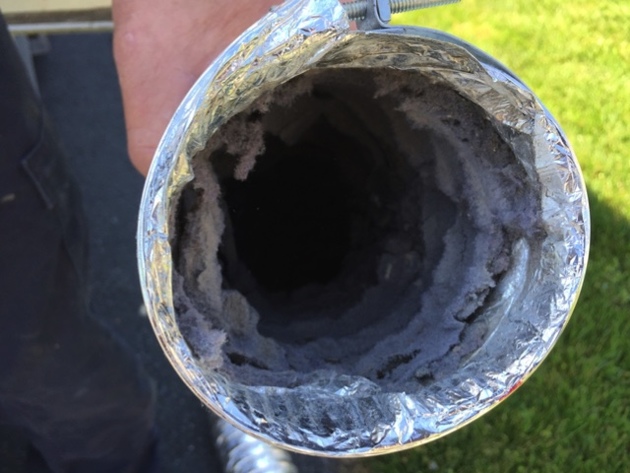 A Google search of "dryer fire" readily yielded three incidents that occurred within one month of each other:
In Lock Haven, Pa., a dryer fire destroyed the home of a 34-year-old man who had lived there most of his life;
In Newport News, Va., a dryer left on overnight was the source of a blaze that displaced nine people (including two infants), destroyed a home and damaged a car;
In Madison, Wis., a fire caused by improper maintenance of a lint trap and vent tubing displaced a family of five and caused $35,000 worth of damage.
These were by no means isolated incidents. Each year, according to the U.S. Fire Administration, 2,900 home clothes dryer fires cause five deaths, 100 injuries and $35 million in property loss.
Other estimates put the number of dryer fires at 15,000 to 17,000 per year, surpassing chimney fires in frequency. The leading cause: failure to clean dryers of flammable lint.
Dryers rely on heat to help remove water from freshly washed clothing. As clothes dry, lint detaches. Much of it gets caught in the lint trap, which typically is found near the bottom door seal. Over time, lint also builds up in the vent pipe that runs from the dryer to the outside.
A build-up of lint can block air flow, causing the dryer to operate inefficiently and possibly overheat.
"A blocked vent is like a hand on a hair dryer," according to 41 Action News in Kansas City, Mo. "All that heat could eventually ignite the lint, which is why you need to have a clear passageway so the air can exit."
Among the signs that your dryer presents a danger:
Clothes take a long time to dry
Dryer gets extra hot
Burning smell near the dryer
Safety tips
The U.S. Fire Administration offers these safety tips to prevent a clothes dryer fire at home:
Have your dryer installed and serviced by a professional.
Don't use the dryer without a lint filter. Clean the filter before and after each cycle.
Don't forget to clean the back of the dryer where lint can build up.
Check the venting system behind the dryer to make sure that it is not damaged, crushed or restricted.
Make sure that the outdoor vent covering opens when the dryer is operating.
Keep the area around the clothes dryer free of items that can burn.
Don't dry anything containing foam, rubber or plastic. An example of an item not to place in a dryer is a bathroom rug with a rubber backing.
Don't leave a clothes dryer running if you leave home or when you go to bed.
Never to leave the dryer on overnight or when you are away.
The National Fire Protection Association recommends that "once a year, or more often if you notice that it is taking longer than normal for your clothes to dry, clean lint out of the vent pipe (also called a dryer exhaust duct) or have a dryer lint removal service do it for you."
Most homeowners, according to HomeAdvisor.com, spent $94 to $170 to have their dryer vents cleaned.
We know of one home in Derry Township that had never cleaned its aluminum, accordian-like vent pipe since purchasing the dryer eight years prior. The homeowner opted to go with the recommendation of a professional HVAC technician just to replace the existing duct with a new one for $130.
Dryer maintenance might seem like an inconvenience, especially on top of all the laundry your household produces. But then compare that with the prospect of a dryer fire that damages or even destroys your home or, worse yet, harms someone within it.