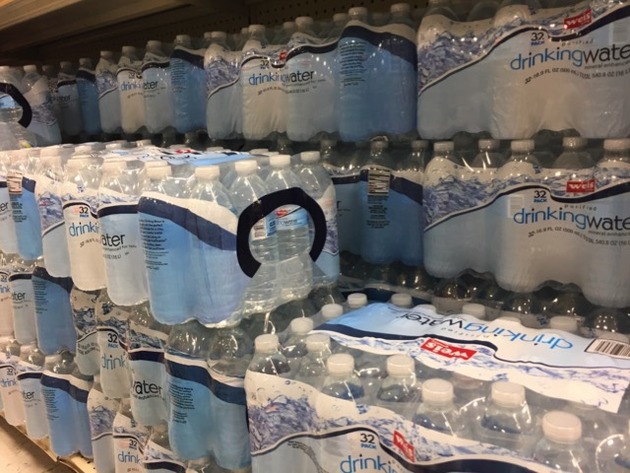 Water, water, every where,/Nor any drop of drink
That's a line from a 220-year-old poem by Samuel Taylor Coleridge called "The Rime of the Ancient Mariner." In it, a sailor is surrounded by salt water that he can't drink safely.
But those same words ring true in the face of massive flooding, such as that brought about in Houston after Hurricane Harvey dumped some 33 trillion gallons of water along the Gulf of Mexico.
Eating or drinking anything contaminated by flood water can cause diarrheal disease, according to the U.S. Centers for Disease Control and Prevention. Flood waters can cause open wounds or rashes to become infected.
In the weeks after Hurricane Matthew slammed into Haiti in 2016, the lack of clean drinking water led to a cholera outbreak.
Washouts or uprooted trees can cause broken pipes, leading to sewage spills or low water pressure that could put water supplies at risk for contamination, according to AccuWeather.
"The thing to remember is that after a hurricane, any water is potentially contaminated, especially from the faucet," said Richard Lowe, author of "Real-World Survival."
ONE GALLON PER DAY
What's worse, big storms tend to cause a run on bottled water, so you might find only empty store shelves where gallons and cases of H2O normally are. It's best to be prepared for whatever Mother Nature has planned.
Water is one of the most vital items to have on hand.
This blog post from Erie Insurance, "5 Tips for Storing Water for a Natural Disaster," suggests having one gallon per person, per day, for a minimum of three days. A case of bottled water equals approximately 4.6 gallons.
"The average person should drink at least two quarts of water every day," the Erie blog noted. "Children, nursing mothers, elderly family members and people in warmer climates may need more. It's a good idea to also reserve water for personal hygiene and food preparation."
Erie also recommends:
2. Storing water in a cool, dark place, away from heat or light, which could cause the containers to leak, and apart from gasoline, kerosene or pesticides, as their vapors could penetrate plastic.
3. Monitoring expiration dates on bottles, which usually are good for one year. If you fill bottles using tap water, you should change that water every six months.
4. Avoiding water from radiators, hot water boilers, waterbeds, and swimming pools and spas. If your stocked water supply runs out, alternatives include melting ice cubes, water drained from the water heater faucet (only if the water heater has not been damaged), and water from canned goods such as fruit and vegetable juices.
5. Using the right containers when bottling your own water, such as soft plastic, fiberglass or enamel-lined metal containers.
"Never use a container that has previously held toxic substances or substances that could breed bacteria (such as milk jugs)," Erie noted.
Following these steps will put you in an enviable position should your home be hit by a flood or other natural disaster.
You'll have water, water, and enough of it to ride out the emergency.