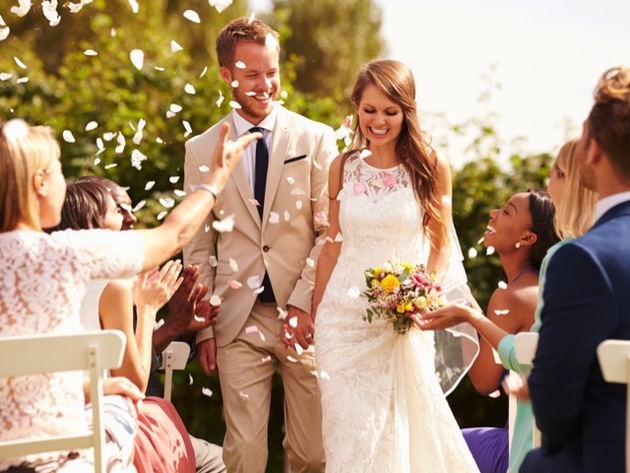 Wedding plans can make life plenty stressful under the best of circumstances, whether they involve choosing the bride's gown, winnowing an invite list, or deciding on a menu.
But at least the planner has lots of say in those decisions. At other times, external forces call the shots, often without warning or regard for the forthcoming nuptials.
Take, for example, Alfred Angelo Bridal's abrupt bankruptcy filing in July, when the Florida-based company closed more than 60 stores. Some customers found out about the closings only from signs posted on locked store doors, leaving them to wonder whether they would receive the dresses they had ordered.
"They rushed to figure out the status of their orders, and store employees were left trying to explain the situation," according to the New York Times.
From man-made disasters to natural ones in September: Hurricanes Harvey and Irma created plenty of wedding woes, particularly for anyone planning to get married along the Gulf Coast or in the lower Atlantic states.
As a CBS News headline put it: "Not the best year for a September wedding," the accompanying article noting that September and October have become increasingly popular wedding months.
Average $26,000 wedding cost
In the face of so much potential uncertainty and financial risk, what is a wary wedding planner to do?
"Wedding insurance has become much more common in recent years as the cost of the event has soared to an average $26,000, including all the traditional, but nonrefundable, features such as rings, houses of worship, limousines, reception halls and caterers, photos and videos. And if you're daring enough – an outside ceremony in a park or at the beach," according to CBS News.
Advanced Insurance Solutions offers wedding insurance through the no-deductible Wedding Protector Plan, which Travelers introduced in 2007. Based on its 10-year claim analysis, Travelers identified these trends:
• The top cause of wedding insurance claims in nine of the past 10 years was vendor problems. One-third of vendor issues involved venues that closed unexpectedly or couldn't accommodate the wedding as promised.
• Twenty percent of all vendor-related claims were caused by photographers failing to deliver agreed upon photos, videos, etc.
• In 2016, the most common claim was for missing or damaged property, marking the first time that vendor issues were not the top cause of claims.
• Weather issues accounted for just nine percent of claims, on average, over the past decade, but in 2012 it made up 20 percent of all wedding insurance claims.
Unexpected events
Tracy Hartman, personal lines agent and operations manager for Advanced Insurance Solutions, said the cost for wedding insurance can vary significantly based on how much and the type of coverage needed.

"So, a simple policy would just provide liability as may be required by, say, your rental hall," she said, noting that most home and tenant policies' liability coverage would not extend to a rental hall.
A basic policy can reimburse you for the loss of non-recoverable deposits and purchases if covered circumstances beyond your control cause you to cancel or postpone your wedding.
Other coverages can protect against no-show or bankrupt vendors, damage to wedding attire, damaged gifts and much more.
Policies can be purchased anywhere from two years prior to a wedding to one day before. However, policies purchased less than 14 days in advance have coverage restrictions.
If planning a wedding, you're no doubt looking forward to a day that's memorable for all the right reasons. But it's also a good idea to anticipate the unfortunate and unexpected events that could alter your plans.
For more information about wedding insurance, call us at 717-533-0252.