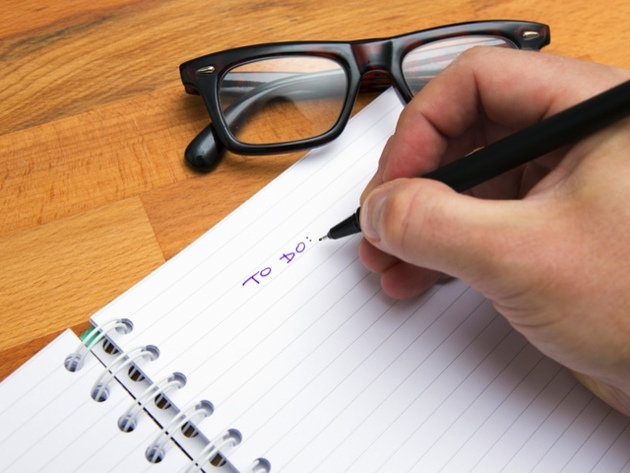 Even with all his super powers, Santa needs help keeping track of who's naughty or nice.

That's why he makes his list (and checks it twice).
Billionaire businessman Richard Branson, whose Virgin Group owns more than 400 companies, swears by lists and always keeps a notebook with him.
"I have always lived my life by making lists; lists of people to call, lists of ideas, lists of companies to set up, lists of people who can make things happen. Each day I work through these lists, and that sequence of calls propels me forward," he wrote in his autobiography.
With a new year beckoning, it's a perfect time to take a closer look at the value of making lists.
Numbered, bulleted or otherwise denoted, a list helps us remember things amid the hectic pace of life. A handwritten list seems to be particularly useful in making us more organized and productive.
Let's not overlook the sense of accomplishment that comes with crossing off items on our to-do lists.
'Your brain decides'
Art Markman, a professor of psychology and marketing at the University of Texas at Austin, cited the "psychological benefits to the simple act of drawing up a list of top-priority tasks – whether or not you actually accomplish them."
Like taking notes while reading a book, writing a list and prioritizing the items on it forces you to do a little extra work.
"This matters," Markman said. "Your brain decides which pieces of information to hang onto for later, partly as a result of how much work you do to them up front – so the more you mentally manipulate a piece of information, the better you'll remember it. That's why it's sometimes surprisingly easy to remember what's on your to-do list even when you aren't looking at it."
Markman said the planning inherent to list-writing helps turn broad goals into concrete results. Writing a book, for instance, can't be achieved without the acts of researching, writing and editing.
"All that takes time, and keeping an agenda of all the little 'sub-goals' that will take you toward the larger, more abstract one can help you actually get to a finished manuscript you're proud of," he said.
Go into detail
Writing down the work tasks you need to perform helps to identify the "tide of interruptions" that get in the way.
"It pulls your brain out of a reactive mode and forces you to think about the long term," he said.
Planning activities a few weeks ahead is crucial to achieving long-term goals, he said. If you don't have enough space left on the calendar, that's a good sign that other less-important jobs are crowding out the important stuff.
You may need to reprioritize your calendar or to delegate items.
"But the point here, anyway, is that you can't do any of this without first jotting down a to-do list," Markman said.
Time management expert David Allen emphasized, in an article on The Guardian website, the importance of going into some detail on a list. Just writing "Mum" on a Post-it note isn't enough.
"Is it an email, a visit or a phone call, and for what purpose?" the Guardian wrote. "If your to-do list isn't clear and to the point, your tasks probably won't get done – and they certainly won't be prioritized."
Bear these thoughts in mind as you contemplate the year ahead. Whether you've resolved to save more money, to exercise regularly or to achieve some other goal, don't just pay lip service to a generality.
Be specific with your list. And put it in writing.