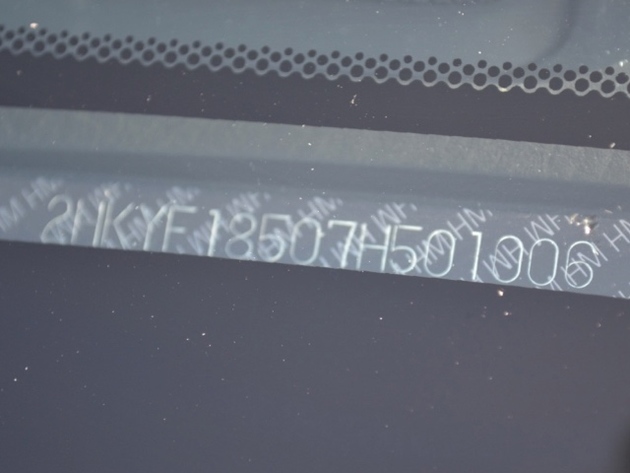 It has been described as a car's fingerprint or DNA.
It is a Vehicle Identification Number, or VIN, and every car or truck made since 1981 has one comprising 17 characters (a combination of numbers and capital letters) unique to that automobile.
"The VIN can reveal a number of things about a car, including its airbag type, country of origin, engine size, model year and trim level," according to car information website Edmunds.com. "The VIN also is key to car safety. By entering a VIN in the National Highway Traffic Safety Administration's free VIN Look-up Tool, you can see whether a vehicle is subject to a recall."
The easiest way to find a car's VIN is to stand outside the driver's side windshield and look where it meets the dashboard. The VIN also is on the driver's side door post, which is where the door latches.
Other places to find a VIN: your car's insurance policy, title and registration. If you keep service records for your car, you're likely to find the VIN there.
Another online tool, vindecoder.net, will allow you to take an even deeper dive into your VIN. Meanwhile, Edmunds.com's explanations will help:
World Manufacturer Identifier (first three digits)
Position one represents the nation of origin or final point of assembly. U.S.-made cars feature a 1, 4 or 5; Canada, 2; Mexico, 3; Japan, J; South Korea, K; Germany, W; Sweden or Finland, Y.
Vehicle Descriptor Section (digits four through nine)
Digits four through eight identify the car model, body type, restraint system, transmission type and engine code. Digit nine is a "check" digit used to detect invalid VINs.
Vehicle Identifier Section (digits 10 through 17)
Digit 10 represents the model year and 11, the manufacturing plant. Digits 12 through 17 make up the production sequence. Using the VIN from a 2013 Cadillac ATS, Edmunds.com noted that the production sequence 125409 means that it was the 125,409th car off the assembly line in Lansing, Mich.
Who knew that 17 characters could say so much?