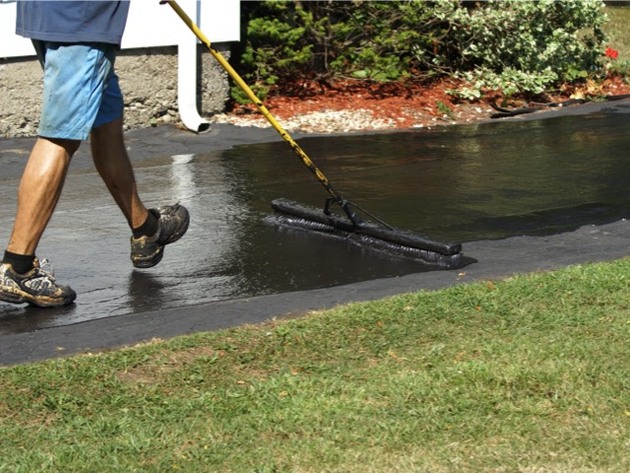 With your paved driveway in need of refreshing, you're presented with choices: namely, do the work yourself or hire a professional for the job.

If you opt for the latter, you also have options: use a traditional coal-tar sealant, or go with a petroleum-asphalt alternative.
Spring is a traditional time for home-improvement projects, and few make a splash quite like rejuvenated blacktop. But coal-tar sealant has been on the defensive for years, with studies suggesting it contains hazardous chemicals that can increase cancer risks.
Retailers including Home Depot and Lowe's no longer sell coal-tar sealants. The website coaltarfreeusa.com touts more than 22.5 million Americans living under a coal-tar sealant ban, although apparently none in Pennsylvania.
Recommendations and references
Before we get into product distinctions, it helps to understand why we seal driveways. There are aesthetic reasons, as a fresh coat of sealant will restore the "black" in blacktop that has assumed a grayish appearance.
Sealant also is designed to restore the integrity of a driveway that dries and cracks from exposure to sun, rain, snow and from being driven on. A fresh coat should stop deterioration and prevent the loss of sand and stone.
When it comes to hiring a seal-coating company, Angie's List recommends:
• Talking with neighbors for recommendations
• Asking for pictures and references from asphalt maintenance companies
• Requesting proof of insurance before the work starts
• Never paying cash upfront and only paying in full when the work is completed
Sealing a driveway every two to three years should be often enough, according to Angie's List, which suggests a cost of $200 to $400 for a 1,000-square-foot driveway.
But while cost is a factor, some seal-coating companies in central Pennsylvania argue that petroleum/asphalt simply is a more effective product than coal-tar sealant.
"Don't allow a seal-coat company to use coal tar to seal your driveway; it will actually cause your driveway to deteriorate," according to one company's flyer. It seals the driveway so tightly that it traps summer heat, the flyer explained. Because the coal tar can't expand, the heat's only means of escape is by cracking the coal-tar seal.
Another company noted that its petroleum-asphalt-based sealant does a better job and contains "No Toxic Coal-Tar."
Polycyclic aromatic hydrocarbons
Which brings us to the health aspects of driveway sealant. Over time, sealants break down into particles that get into the air, water and even homes. A 2016 Oregon State University study found that "sealcoats based on asphalt, more commonly used in the West, were still toxic, but far less than those based on coal tar."
A 2013 USA Today story carried the headline, "Toxic driveways? Cities ban coal tar sealants."
Researchers in Austin, Texas, looked at concentrations of hazardous chemicals known as polycyclic aromatic hydrocarbons (PAH) found in settled house dust. In 23 ground-level apartments adjacent to coal-tar-sealed parking lots, PAH concentrations were 25 times higher than in apartments next to lots without coal-tar sealant.
Austin was the first city to ban coal-tar sealants.
As for the coal-tar industry, it said "government and academic studies are flawed and there's no definitive proof that its coal tar products cause harm," according to USA Today.
Unless you live where a coal-tar ban is in effect, you're free to make a choice between coal-tar and petroleum-asphalt sealant based on availability.
But knowing that not all sealant is the same, you can make a more informed choice.