With twinkly lights, glistening tinsel and dozens of homemade ornaments, our Christmas trees tell the stories of our family traditions. But if your holiday memories spark into a Christmas tree fire, it can be a frightening sight.
While Christmas tree fires aren't common, they can cause serious and sometimes deadly damage. The National Fire Protection Association reports that an average of 160 home fires are caused by Christmas trees per year. The fires burn quickly and can destroy more than just the tree, resulting in $10 million in direct property damage annually, according to the NFPA.
To see how much damage a Christmas tree fire can cause, Erie staged a fire in a vacant home, supervised by the local fire department. From its first flame, it only took 30 seconds to fill the room with toxic smoke. And in one minute, it burned down the entire living room.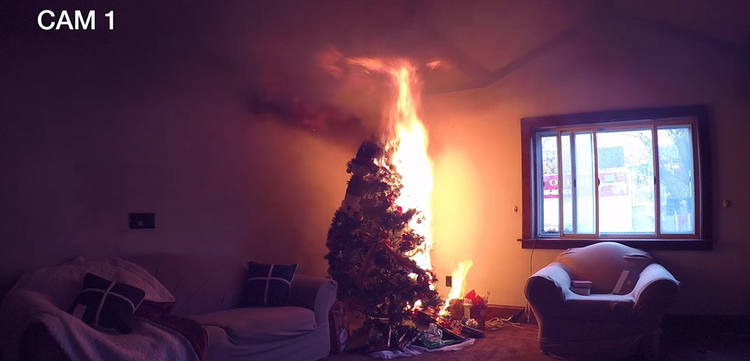 WHAT CAUSES A CHRISTMAS TREE FIRE?
Many people love their Christmas decorations and choose to leave them up for a few weeks after the holiday. But when it comes to a dried-out live Christmas tree, that's a dangerous risk to take. The moisture content of your tree can determine how quickly a fire will spread. A well-maintained tree won't catch as easily as one with dry branches and needles.
HOW TO PREVENT YOUR CHRISTMAS TREE FROM CATCHING FIRE
Keep your tree shining bright and fire free with these helpful tips:
LOOKING AFTER YOU
When it comes to holiday traditions, it's nice knowing your independent ERIE agent is there to help you protect both the old and the new. This holiday season, make sure you and your family have the right home insurance so you can tackle whatever life throws your way.