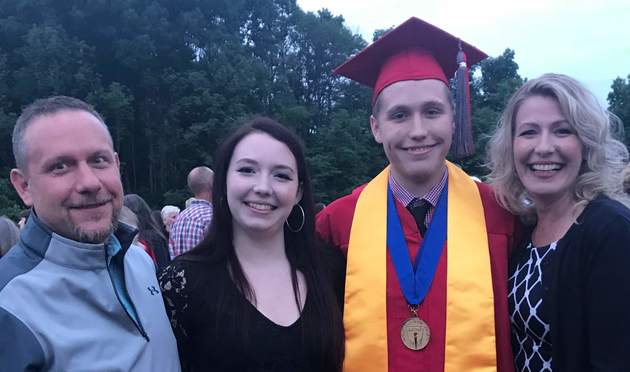 Where did you grow up?
Pine Grove
Can you tell us a little bit about your family?
I am married to Chris Hartman, 20 years. We have two children, Samantha and Nathan. Samantha just completed her first year at the Culinary Institute of America, and Nathan just graduated high school. We live in Pine Grove and have a dog, Ava, and cats, Piper and Leo.
What do you most enjoy doing in your spare time?
I enjoy spending time with my husband and children, especially since that time is limited due to our work and school schedules. I also enjoy traveling with my family and friends; we all enjoy "foodie" trips to New York City.
You joined AIS in 2015 as a 10-year veteran of the insurance business. What got you started?
I began in the industry as a part-time telemarketer, moved into a customer service representative position, and then became a licensed insurance advisor for personal lines auto, home, life and health.
What are some of your responsibilities as operations manager?
That's a very long list! I handle all day-to-day operations of the agency, including supporting sales and service staff, hiring, training, coaching and developing staff for performance in sales, service, productivity and compliance. I am responsible for the implementing and managing of agency procedures and quality assurance. I develop and maintain carrier, client and referral relationships. It is also my responsibility to manage our growth, profitability and retention.
How has the insurance business changed the most during your career?
The industry has certainly changed in the past few years. The biggest changes are rates and coverage. As a whole, the industry is offering a wider array of coverages than ever before, and there are always new coverage options on the horizon.
In terms of rates, we are seeing increases across the board, but especially with auto insurance. This is directly related to the tech world we live in. There are more accidents due to distracted driving than ever before. Additionally, costs to repair or replace vehicle damage have been on the rise due to all the smart car technology.
As AIS continues to grow, how do you ensure that customer service remains the top priority?
Our continued training, education and coaching of the team will ensure a consistent, excellent client experience today and in the future.
As an insurance consumer, what should I do to make sure I have the right insurance for the stages in my life? Consumers always should review their renewal documents for any changes to their policies or coverage options. Our agency offers an annual review, and clients should take advantage of the opportunity to review all of their policies with an insurance advisor.
Consumers should contact their agent any time they have a major life event, such as getting married or having a child. Homeowners should report any significant changes they make to their homes, such as kitchen and bath upgrades or the addition of a swimming pool, detached structure or a new pet. I also advise clients to call for quotes on auto insurance before purchasing a car.

How well does the average consumer understand insurance?
Unfortunately, many consumers do not understand insurance well. However, our agency takes pride in properly advising our clients as to the coverage they have and how it works. It is our job to help our clients best understand how to protect the most valuable things in their lives and to make sure they have all the coverage they need and want.